Bring a Taste of Vietnam to the Mississippi Gulf: Homemade Banh Mi Sandwiches
The Mississippi Gulf is home to a thriving Vietnamese community, bringing a rich blend of cultures and flavors to the coast. From traditional pho noodle soup to the delicious banh mi sandwich, the cuisine of Vietnam is a true delight for the senses. By learning how to make banh mi sandwiches at home, you can bring a taste of this vibrant culture into your own kitchen and enjoy a delicious fusion of flavors from the comfort of your own home. With a mix of juicy marinated meats, fresh herbs, and tangy sauces, banh mi sandwiches are the perfect way to savor the tastes of Vietnam on the Mississippi Gulf.
A wonderful sandwich steeped in culture
Banh mi is a Vietnamese sandwich similar in style to a po-boy. It's a fresh baguette filled with various ingredients such as pickled vegetables, fresh herbs, grilled meats (such as chicken, pork, or beef), and a spread like mayonnaise or pâté. It is a fusion of French and Vietnamese cuisine and has become popular around the world.
In Vietnam, banh mi is often sold as street food and is a popular and convenient snack or meal. Today, banh mi can be found in many cities worldwide, with each vendor putting their spin on the classic recipe. Some popular variations include banh mi with fried egg, banh mi with grilled meatballs, and vegetarian banh mi with tofu.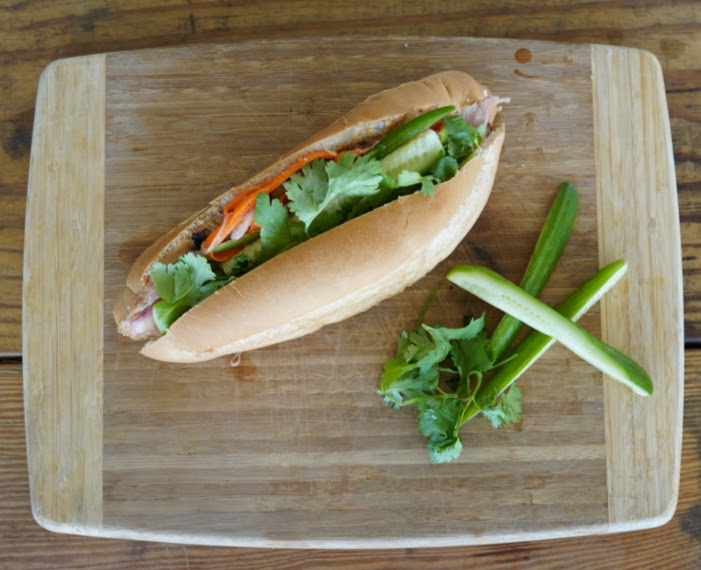 The best place to find ingredients for banh mi is an Asian market. They specialize in carrying a wide range of Asian ingredients and are more likely to have authentic items such as baguettes, pickled vegetables, and sauces commonly used in banh mi. Additionally, Asian markets often have a wider selection of fresh herbs and specialty meat products, like thinly sliced grilled meat.
If an Asian market is not available in your area, you might be able to find the ingredients for banh mi at a well-stocked grocery store. Many grocery stores now carry a wider range of international ingredients, including those used in banh mi. Look for a bakery section for the baguette, and look in the international aisle for pickled vegetables, sauces, and other specialty ingredients.
Here is a basic recipe for making a banh mi sandwich at home:
** Ingredients:**
1 baguette or French bread roll
1/2 lb. sliced grilled meat (chicken, pork, beef, or tofu)
1/2 cup pickled carrots and daikon
1/2 English cucumber, sliced
Fresh cilantro
Fresh jalapeño peppers, sliced (optional)
Mayonnaise
Soy sauce
Maggi sauce or fish sauce (optional)
** Instructions:**
Cut the baguette in half lengthwise and lightly toast it.

Spread mayonnaise on both halves of the baguette.

Add soy sauce and Maggi sauce or fish sauce (if using) to the meat and spread it on one-half of the baguette.

Add the pickled carrots and daikon, sliced cucumber, cilantro, and jalapeño peppers (if used) to the baguette's other half.

Put the two halves together to make the sandwich.

Serve and enjoy your homemade banh mi sandwich!
Note: Feel free to adjust the ingredients and ratios to your liking. You can add other ingredients such as pâté, cheese, or lettuce.